Sign Milo Native American Indian Girl Bronze Sculpture Figure Statue Figure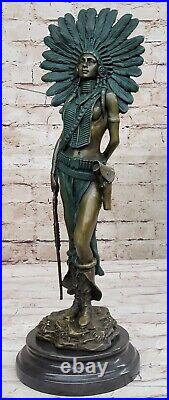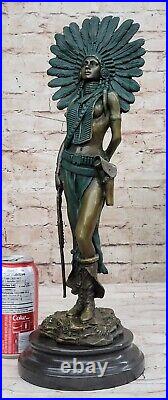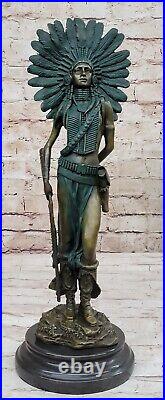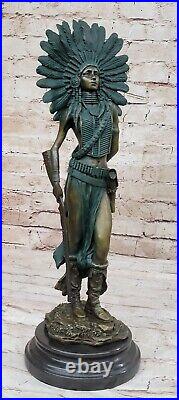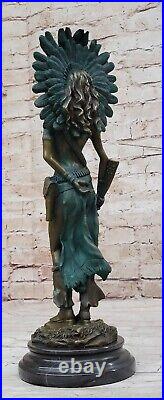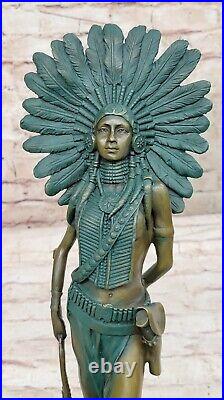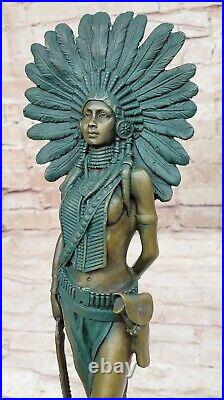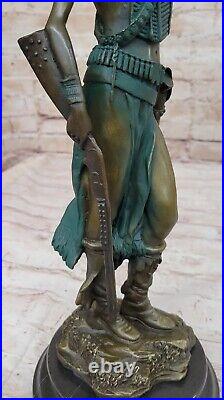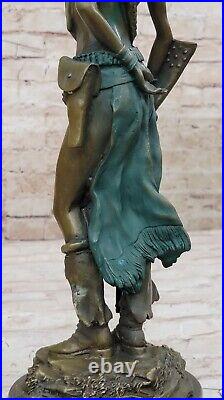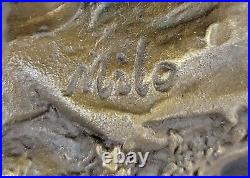 This sculpture is in perfect condition. Bronze Dimensions with Marble Base: Height 18" X Width 6". Presenting an awe-inspiring depiction, behold the fierce Native American woman, poised for the hunt. With unwavering courage and silent confidence, she commands attention atop a grassy hill.
Her regal presence is adorned by a magnificent eagle-feather and beaded war bonnet, its feathers standing tall in full display. A beaded choker adorns her neck while a gun belt, complete with a holstered pistol and bullet-lined waist, rests upon her hips. Her front and back are adorned with flowing cloth, revealing the length and curvature of her legs, while a beaded vest graces her chest, accentuating her slender frame. At her side, she holds a long rifle with her free hand gracefully tucked behind her, resting upon her rear.
The intricate details of her thick, wavy mane cascade from the back of her war bonnet down her back. Completing her attire, she wears calf-high boots, tightly tied with a rope in the front. This remarkable sculpture captures her spirit, as she stands proudly not behind, but beside men. With a green patina gracing her accessories and a brown patina adorning her skin and boots, this 100% bronze sculpture is a true masterpiece. Meticulously crafted by hand using the renowned "Lost Wax Method, " it embodies the utmost precision and detail.
The sculpture is mounted on a round black marble base, providing stability and an elegant display. Each piece is personally signed by the esteemed artist, Milo. Don't miss the opportunity to own this extraordinary work of art that pays homage to the strength and beauty of the Native American culture.
Native American Indian Female Warrior in Feathered Headdress Bronze Statue Sculpture by Milo EP-059. A fierce Native American women prepares to hunt. She stands tall with bravery, silent confidence and stunning beauty on a grassy hill top.
Her full eagle-feather and beaded war bonnet covers her head. The feathers round her head, fully extended upright. A beaded choker covers most of her neck.
A gun belt is slung over her hips, with a pistol in the holster and extra bullets lining her waistline. Long cloth hangs between her thighs in the front and back, leaving the length and curve of her legs exposed. A beaded vest covers the front of her chest but leaves her sides and back bare, showing off her slender frame.
She holds a long rifle to her side with her free hand tucked behind her, resting on her rear. Her thick, wavy mane hangs loosely from the back of her war bonnet, down her back.