Native American Style Wood Flute, High Spirit 23 Flute Key D Sd-072206709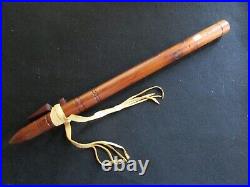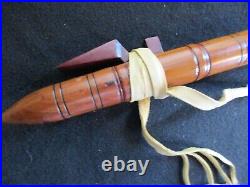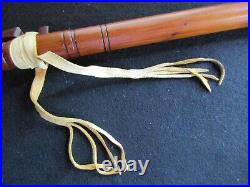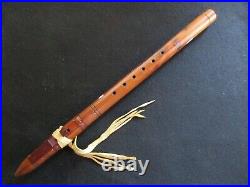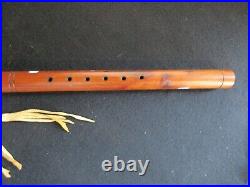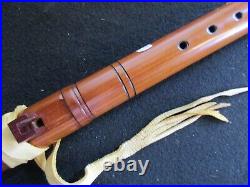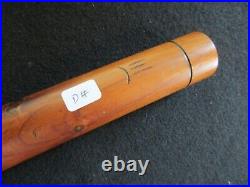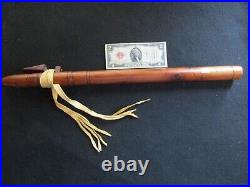 WELCOME TO ANOTHER GREAT ITEM OFFERING FROM. SOUTH DAKOTA COLLECTOR'S ESTATE. COLLECTOR LIVED IN THE DAKOTAS HIS ENTIRE LIFE. MANY FINE NATIVE AMERICAN ITEMS, SOME DIRECTLY FROM THE RESERVATIONS. "SMOOTH SOUNDING" NATIVE AMERICAN STYLE FLUTE.
"HIGH SPIRITS" MADE, KEY OF "D". FINE DETAIL WORKMANSHIP & DESIGN. GREAT ITEM AND REALLY SPECIAL. MORE DESCRIPTION, CONDITION & SIZE. GREAT ITEM AND REALLY SPECIAL.....
SOUTH DAKOTA COLLECTOR HAD A HUGE COLLECTION OF NATIVE AMERICAN ITEMS. MANY FINE BASKETS, BEADED LEATHER ITEMS, PARFLECHE, QUILL WORK, STONE ITEMS, POTTERY, SHIELDS, DOLLS AND MUCH MORE. MANY ITEMS WERE ACQUIRED DIRECTLY FROM NATIVE PEOPLES ON RESERVATIONS OR TRADED. WE WERE ABLE TO OBTAIN MANY FINE COLLECTABLES FROM HIS ESTATE. WHAT A GREAT ITEM TO ADD TO YOUR COLLECTION.
OR TO RESELL OR TRADE WITH OTHER COLLECTORS! WOELTJE _ANTIQUES BUYS ENTIRE LARGE COLLECTIONS FROM THE HEIRS OF COLLECTOR'S ESTATES. ITEMS IN THE VARIOUS COLLECTIONS DATE FROM 10,000 B. C TO THE 1900'S. SOME ITEMS MAY HAVE COLLECTOR'S HAND WRITTEN NOTES, C. PAPERS, OAK DISPLAY CASES, GLASS CASES AND MANY DO NOT. WE RECENTLY OPENED ANOTHER CRATE OF ASSORTED ITEMS AND FOUND THE ITEM LISTED HERE. CHECK PHOTOS FOR DESCRIPTION AND CONDITION. ITEMS BEING DELIVERED TO ADDRESSES OUTSIDE THE UNITED STATES.
Thank you for looking at this item. Woeltje_Antiques ALWAYS includes any collector's notes, C. If you have questions, please send us a message and although we ourselves do not own or collect any of the items we sell, we will try to answer as best we can and as soon as possible.
THIS ITEM HAS NOT BEEN AUTHENTICATED AS TO AGE, MATERIALS, MAKER, TIME PERIOD, OR ORIGIN...