Native American Sioux Style Indian Fully Beaded Suede Leather Hide Vest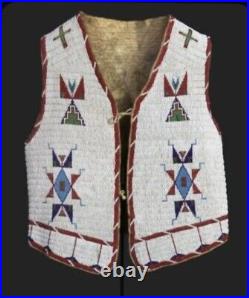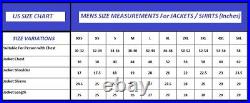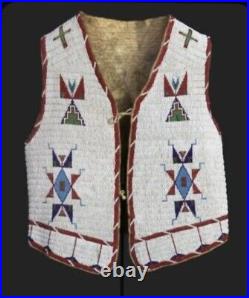 Men's Old Style Beaded Suede Leather vest. Made By Non Native American. This exquisite Sioux style powwow vest is a true piece of Native American artistry. Handcrafted with meticulous attention to detail, this vintage vest features fully beaded front paneling on genuine leather hide, showcasing the traditional artistic techniques of the Sioux tribe. The vibrant beadwork is expertly executed in a stunning array of colors and patterns, creating a visually captivating design that embodies the rich cultural heritage of the Sioux people. The vest is adorned with an intricate beadwork pattern that includes traditional symbols and motifs, reflecting the spiritual and cultural significance of the Sioux tribe. The front panel is fully beaded, while the back is crafted from high-quality leather hide, ensuring durability and comfort.
The vest also features a classic vest-style silhouette with a front button closure, making it easy to wear for powwows, ceremonies, or as a statement piece in your wardrobe.