Native American Indian Sioux Beaded Rifle Scabbard Bead Buckskin Gun Cover LR101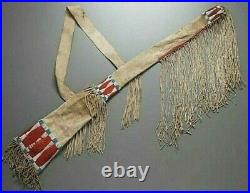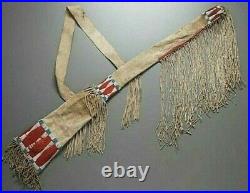 Original Buckskin Leather and Beaded Gun Cover Scabbard. Native American Indian Beaded Rifle Scabbard Style Suede Leather. We also do a custom made order. Made By Non Native American.
One side (barrel size)3" and other side 6". We made Scabbards only on special order. We Believe In Long Term Relationship With Our Customer. We Always Use Good Quality Material As We Describe in Our Products. But In case If You Have Any Issue Or Find Anything Wrong In our Products Please Let Us Know Before Leaving Any FEEDBACK.
We Will Resolve Your Issue And Make Sure Your Satisfaction First. Native American Indian Sioux Beaded Rifle Scabbard Buckskin Gun Cover - Vintage Handmade Collectible. This Native American Indian Sioux beaded rifle scabbard is a true work of art.
Handmade with care, it features intricate beadwork on soft buckskin leather that adds a unique touch to its traditional Southwestern style. The scabbard is designed to protect your rifle while also making a bold statement as a collectible piece. The attention to detail in this scabbard is evident in every stitch and every bead. The vintage look and feel of the leather adds to its authenticity and charm.
The beaded design on the front and back creates a stunning pattern that's sure to turn heads. This scabbard is not just a hunting accessory but also a statement piece that would add a touch of Southwestern style to any home decor. This scabbard is made with authentic materials and craftsmanship, making it a collectible item that's perfect for any Native American art enthusiast. Its traditional design and vintage look make it an ideal addition to any collection or a statement piece in your home decor. It also makes a unique and thoughtful gift for anyone who appreciates authentic artifacts.
Don't miss the chance to add this stunning scabbard to your collection or home decor. With its unique design, high-quality materials, and authentic craftsmanship, it's a must-have for any collector or enthusiast.